For 15 Days we will be counting down the Top 15 Greatest Steelers of the Bill Cowher Era. The list will have both offensive and defensive players, and in doing the list no kickers or punters were selected. Below is our number choice of the day building towards the number one Steeler of the Cowher Era.
Number #5
Greg Lloyd LB 1987-1997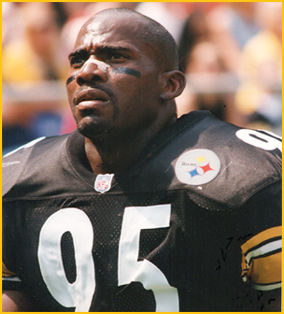 "I Wasn't Hired For My Disposition."  That was the t-shirt that Steelers linebacker Greg Lloyd wore under his jersey on gamedays.  Lloyd was the firey leader of a Steelers defense that put pain on opposing offenses, and was a player that within a second could make a play that would change the course of a game.  Using his speed and moves that he leared as a black belt in Tae Kwon Do, Lloyd was one of the most feared players in the game during his prime with the Steelers.  He was also a player that was not afraid to speak his mind, something that defined him as a fan favorite of the Bill Cowher Era.
Lloyd's career didn't exactly start off with a bang, nor did it start with higlight reel plays or invites to the Pro Bowl.  Coming out of small Fort Valley State University, the Steelers drafted him in the 6th round, with the 110th pick of the draft in 1987.  He was hurt most of his first two seasons, and though when he was healthy he showed flashes, many wondered if Lloyd was ever going to show what he really could do, or be healthy enough to do it. "I was a liability to the Steelers; I hadn't done anything [in the league] yet," Lloyd said in an interview in 2006. "They were kind enough to keep me around."
Then in 1989, Lloyd had an outstanding camp for then coach Chuck Noll, and quickly claimed a job as starter at outside linebacker.  That season he began to show what he could do when healthy, leading the team with 7 sacks.  He recorded a team high 92 tackles, and had 3 picks for a Steelers team that reached the second round of the playoffs.  In 1990, the Steelers defense was ranked number one in the league, and Lloyd had a lot to do with it.  He made 14 starts, had 4.5 sacks, 62 tackles and one interception.  1991 again saw Lloyd play at a high level, and that season he recahed his first Pro Bowl for a Steelers team that went 7-9, Chuck Noll's last season.  Lloyd had 8 sacks, six forced fumbles and one interception.
Then in 1992, when Bill Cowher came aboard, Lloyd was talked about moving to inside linebacker, a move that Lloyd and his agent balked at.  The story of Lloyd moving inside was a non-story though, as the Pittsburgh papers were on strike, and no one really followed the story.  Cowher saw the light and moved Lloyd back outside, and he again shined.  He made the Pro Bowl, had 6.5 sacks five forced fumbles and recovered three fumbles. 
The 1993 season saw Lloyd make his first start in the Pro Bowl, as again he made life miserable for opposing teams.  Against the Chargers on October 10th at Three Rivers, Lloyd destroyed the Chargers game plan, with 11 tackles, a sack, and two forced fumbles.  One of the fumbles was returned by Levon Kirkland for a score in the Steelers win.  Lloyd was namded the AFC Player of the Week for his efforts in that game.  The Steelers went 9-7 that season, making the playoffs as a wild card, and Lloyd along with Kevin Greene became the most feared LB duo in the game.
It was much the same in 1994, as the Steelers went 12-4, won the AFC Central, and wound up in the AFC Title game vs San Diego.  Much of that again was based on defense, as Lloyd and Greene tore up opposing teams.  The "Blitzburg" defense was the best in the league, and Lloyd was named to his 4th Pro Bowl.  He was also Voted MVP by teammates for second time in career, Consensus all-Pro by AP, C&PFW, Football Digest, Sports Illustrated, USA Today.  He was named defensive player of year by United Press International and Kansas City 101 Club.  The Steelers fell short that year in the title game, but not becuase of Lloyd.
1995 Lloyd was voted defensive co-captain with Levon Kirkland by his teammates.  In starting every game, he was named to his 5th Pro Bowl, and was consensus all-Pro by AP, C&PFW, Football Digest, Pro Football Weekly, and Sporting News. Lloyd had a career high 117 tackles that season as he and the Steelers advanced to Super Bowl XXX, losing to the Dallas Cowboys.  In that Super Bow, Lloyd had 8 tackles, and overall in that postseason, had 20 tackles, 2 sacks and 6 QB pressures.  The 1996 season was the start of the end for Lloyd, as he suffered a torn patella tendon in left knee five minutes into third quarter of opener at Jacksonville.  Just like that his season was over, and Lloyd was never the same.
He did make a comeback in 1997, but after playing okay in the first 10 games, he  sat out the final six games after hurting his ankle, which then developed into a staph infection. Had registered 33 solo tackles and 3.5 sacks before the injury.  He was let go by the Steelers before the 1998 season, signed with the Panthers, and played one average season before walking away from the game.  Lloyd now operates his own  martial arts school, Oh Do Kwan Martial Arts, which can be found at www.ohdokwan.com.                              
"I won't change—I say what I have to say regardless of who you are. If you talk down to me, then you're going to get it back in a negative way," Lloyd said in a 2006 interview  "I stand out; I have a lot of discipline and a lot of morals. The world changes so much—it expects good people to succumb to all the bad things. I don't—I stand on my values as a black man raised as a black child. And I won't move on that."      
Steelers Gab Newsletter
Sign up to receive our
Steelers Gab
newsletter, and keep up to date with all the latest Pittsburgh Steelers news.