It has been no secret that Pittsburgh Steelers wide receiver Antonio Brown is a true star at his position. Once a sixth-round draft pick in 2010, Brown has worked his way up the depth chart before finally being considered the best receiver currently in football.
Brown posts daily videos and pictures to his Snapchat page where millions of people can view them to see his daily life. Yesterday he posted an old draft scouting report from 2010 where someone had written about him.
The writer questioned Brown's work ethic and character and talked about how he had a "prima donna attitude" while in college. However, the writer did talk about how Brown has the "run-after-catch ability" and good "return skills".
While anything is possible in the NFL, being a late round draft pick could be quite difficult. Many people question if you have what it takes to succeed at an NFL level. Brown would become the player that he is today and that really shows you how much hard work and dedication he has put into the game he loves.
After his 2010 draft selection, Brown has made a name for himself on the field. He has been to four Pro Bowls, is the first NFL player to record back to back seasons with at least 125 receptions, and is a true stud at the wide receiver position.
The Pittsburgh Steelers have always had a knack at drafting great players in late rounds. Brown has managed to become one of the greatest receivers in the game today and could end up being the best Steeler to ever play the game.
Here is the Snapchat picture that Brown took: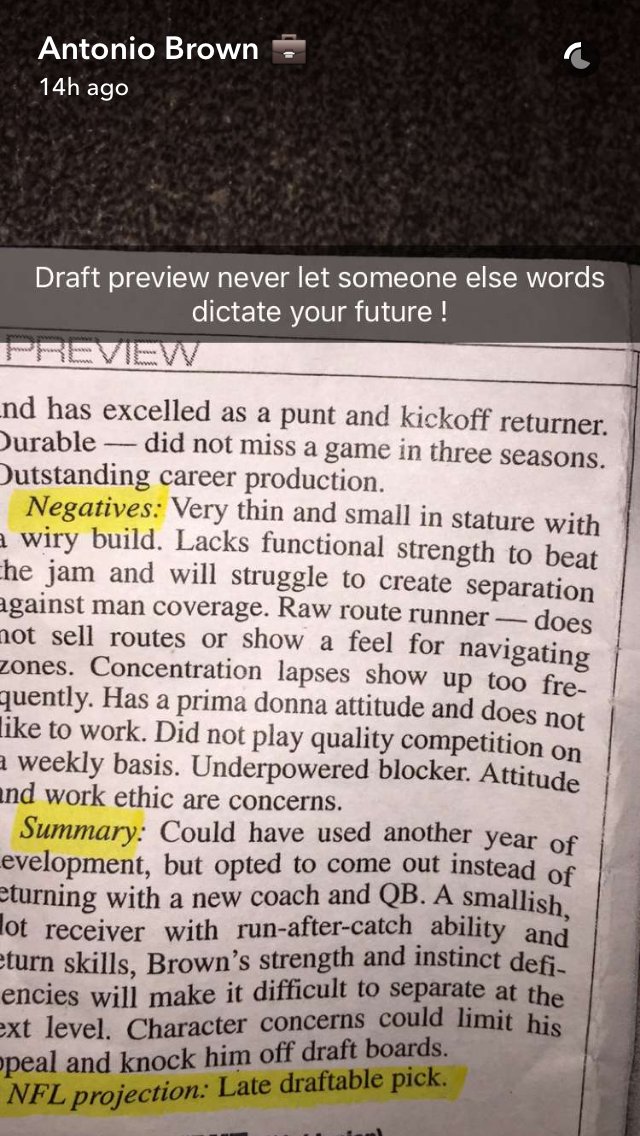 Steelers Gab Newsletter
Sign up to receive our
Steelers Gab
newsletter, and keep up to date with all the latest Pittsburgh Steelers news.