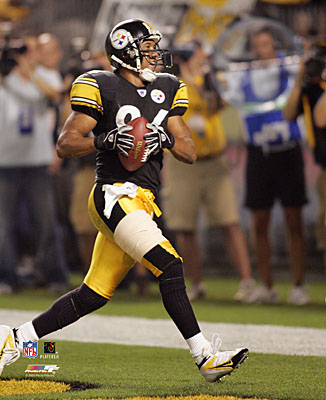 Steelers wide receiver Hines Ward is hurting after remarks made by quarterback Ben Roethlisberger. Roethlisberger told the Pittsburgh Post Gazette that the Steelers should acquire a tall wide receiver, specifically to help in the "red zone" and for a bailout target when he's under pressure. Roethlisberger cited 6'5" Plaxico Burress, a former Steelers receiver, as they type of receiver the Steelers should acquire.
Ward was taken aback by those comments saying "I don't hear Tom Brady or Peyton Manning asking for that". It should be noted that since 2002 Ward is tied for second in the league in percentage of touchdowns in the red zone with 33-percent. The New England Patriots Randy Moss is first with 36-percent. "I don't see Tom Brady caring about who's tall or not. He got Randy this year, but he did it before without him" Ward said. Ward is one of four finalists for the NFL Man of the Year, which will be awarded next week at the Super Bowl.
Steelers Gab Newsletter
Sign up to receive our
Steelers Gab
newsletter, and keep up to date with all the latest Pittsburgh Steelers news.