Okay, so the Steelers have been eliminated from Super Bowl contention for yet another year. However, we learned two crucial things this season. Firstly, injuries matter. The whole 'Next Man Up' policy obviously exists but it's almost impossible to replace your studs. As good as DeAngelo Williams is, he's no Le'Veon Bell. By the same token, Martavis Bryant is a great number two but he's no Antonio Brown – both stars are close to irreplaceable.
Bell suffered a season-ending knee injury midway through the campaign while Brown was ruled out of the Broncos clash after suffering a concussion against the Cincinnati Bengals. Had Pittsburgh been fortunate on the injury front, who knows what could have happened? Secondly – and most importantly for next season – we now know that the Steelers have the best offense in the NFL. Perhaps the statistics don't agree but next year, we will see Pittsburgh's offense flourish.
Pittsburgh fell to the Denver Broncos 23-16 at Mile High Authority Field on Sunday as Gary Kubiak's side advanced to face Tom Brady and the New England Patriots. At the start of the season, the Steelers lost 28-21 at New England – but that was with Bell in the side. Had Pittsburgh faced off against the Patriots in the AFC Championship game, Mike Tomlin's side would have fancied their chances of getting their revenge.
As it is, Denver – who are priced at 27/20 to beat New England in Bet365's betting odds when this article was produced – will have the opportunity to advance to the Super Bowl and face either the Carolina Panthers or Arizona Cardinals.
Next year, it's Pittsburgh's turn. Ben Roethlisberger remains an exceptional quarterback and the Steelers have surrounded him with talent, which gives an instant recipe for success. While their 2016 schedule could be easier, they have favorable home fixtures against the two best teams in the AFC East, which helps as they don't need to face them on the road. In terms of their remaining fixtures, they are all winnable games. There's only one or two away fixtures outside of the division that may hinder Pittsburgh's chances of getting their hands back on the AFC North title.
With Antonio Brown breaking Steelers' records every year, these are exciting times for their supporters. In fact, the Steelers could well finish as the highest scoring team in the NFL next season, especially if they manage to tie all of their top players down to lucrative contracts. If Pittsburgh fulfill their potential, there's absolutely no reason why Tomlin's side cannot finish as one of the top two seeds in the AFC. With Peyton Manning due for retirement, Tom Brady getting older and the Bengals' tendency to self-implode, the conference could be there for the taking in 2016.
Yes, Pittsburgh supporters were disappointed at Sunday's defeat to the Broncos, but there's always a silver lining. Just imagine how potent that offense will be next season. Big Ben, Bell and Brown – a trio capable of leading Pittsburgh to their seventh Super Bowl title.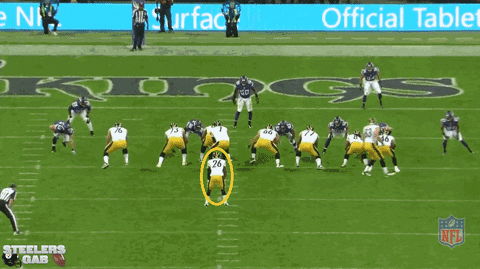 Steelers Gab Newsletter
Sign up to receive our
Steelers Gab
newsletter, and keep up to date with all the latest Pittsburgh Steelers news.