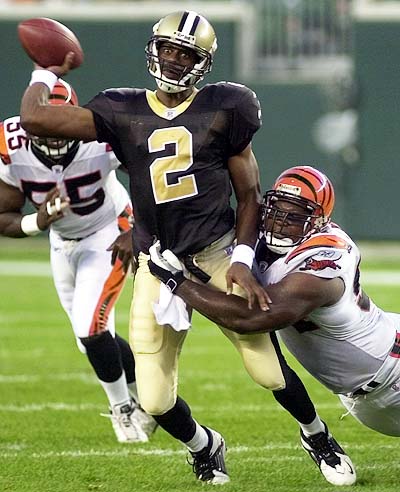 With Charlie Batch already a solid backup to Big Ben, the following story from ESPN's John Clayton has me scratching my head: "The Steelers recently had former Saints and Raiders quarterback Aaron Brooks in for a visit. What will be interesting to see is whether the Falcons contact Brooks. Brooks clearly is one of the best quarterbacks on the street and will be one of the first players called if a team loses a quarterback to injury." Well, all I know is that everytime I see Aaron Brooks, he is either throwing a pick, or getting sacked. Why coach Tomlin would want to mess with something like the backup QB position is beyond me. Charlie Batch has been called on a few times over the past few years, and despite not putting up good numbers in the Green Bay game in 2005, he did play well against Cleveland that year before getting hurt, and again this past year vs the Dolphins and Falcons. Memo to Mike – leave the backup QB spot alone. Charlie is a solid backup, a fan favorite, and an all-around good guy. Let Brooks continue what has been a lackluster NFL career elsewhere.
Steelers Gab Newsletter
Sign up to receive our
Steelers Gab
newsletter, and keep up to date with all the latest Pittsburgh Steelers news.