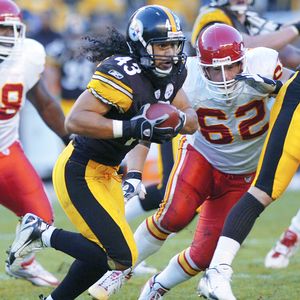 If your concerned that All-Pro safety Troy Polamalu is going to be eased back into the Steelers defense after missing most of training camp – have no fear. "We are just going to toss him in," Mike Tomlin said. "He missed a bunch of (training camp) due to injury. We play on Sunday and he is going to be a part of it. Hopefully, he gets his legs under him pretty quickly." Troy is maybe the most important player in the Steelers defense along with LB James Harrison, but the team has not been fully able to see what they can do as Polamalu has missed time with a hamstring injury.
He missed five games last season, and there was no doubt the difference you could see on the field with the wild haired Polamalu flying around making plays, as to when he wasn't out there. The team still had the top ranked defense in the league, but with Troy out there, they can be even more dangerous in 2008.
Polamalu is a master when it comes to rushing to the line of scrimmage and making a QB's life tough. Without him the team is more limited in what they can run, but with a healthy Troy out there, the team and defensive coordinator Dick LeBeau will continue to come up with ways for him to make plays. "The reason we can do so many things well is his ability to disguise and be athletic enough to get to where he needs to be," safety Ryan Clark said. "From a preparation standpoint for offenses, he's a guy you've got to prepare for. There's only a few guys in the league you have to scheme for, and he's one of them."
Steelers Gab Newsletter
Sign up to receive our
Steelers Gab
newsletter, and keep up to date with all the latest Pittsburgh Steelers news.