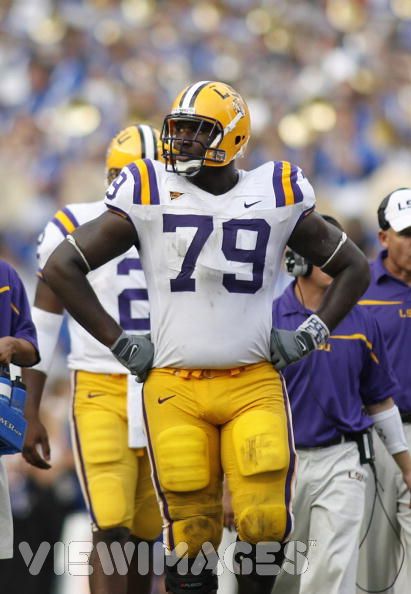 A couple more college prospects were in Pittsburgh on Monday, one of which we had as our pick for the team at 32 if he happens to be there. In town were California center Alex Mack of California, USC defensive tackle Fili Moala and LSU guard Herman Johnson.
Mack was our pick for the team in our Steelers Mock Draft 1.0, and he seems to be a guy of great interest for the club. He is listed at 6-4, 315 pounds. Here is the bio on Mack from KFFL.com:
Alex Mack has been rated by many experts as the best offensive lineman in college football. Because he plays center and not guard or tackle, he may not be a top 10 pick in the 2009 draft. Mack is a very intelligent player who is capable of making all line calls. He always plays with his head on a swivel and is the anchor for one of the top running attacks in college football. Mack has a very strong lower body and uses great technique in run blocking to drive defenders off the ball. He does an excellent job of getting to the second level as a blocker to help allow running backs to break longer runs. He is also excellent in pass protection as well he shows good footwork to stop both strong and quick defenders. He is a better prospect than Panthers starter Ryan Kalil (who was drafted in the second round of the 2007 draft). Mack has been a three year starter in the Pac-10. He was a Pre-season Playboy All-American, was named to numerous All-American teams in 2007 and has been an all Pac-10 performer in 2006 and 2007. He also won the 2007 Morris Trophy for the Pac-10's top lineman. Mack continues to lead an offensive line blocking for one of the most potent offenses in the country. As long as he stays healthy, he will be a mid-to-late first round pick in the 2009 NFL draft and could start immediately.
Moala is 6-4, 305, and did have an offseason issue in March, as he was arrested for resisting and obstructing an officer after a fight at a Newport Beach bar was broken up by police. No charges were filed, but you have to wonder if that is going to effect his draft status.
Here is a quick look at him from draftcountdown.com
Strengths:
Excellent athleticism…Very quick and agile…Good speed…Adequate size with long arms…Has a big frame with room to grow…Active and does a nice job in pursuit…Good range and mobility…Can penetrate and slice into the backfield…Productive pass rusher…Decent instincts and awareness…Versatile…Good bloodlines…Great program pedigree.
Weaknesses:
Inconsistent and disappears for stretches…Plays too tall at times and doesn't always use good leverage…Has some trouble getting off blocks…Does not use his hands well…Needs to get stronger…Is not overly stout at the point…Some minor durability and character issues.
Johnson is listed as a whopping 6-7, 349 pounds. He is expected to go late first, early second round. Here's his profile from Walter Football:
Strengths: Mammoth size with dominant strength … Very long arms … Great pancake block ability … Solid athleticism to pull and trap … Getting better at picking up blitzes … Nice hand punch … Mentally tough and doesn't wear down in the fourth quarter … Extremely strong hands and can manhandle opponents … Great in short-yardage and goal-line situations … A lot of experience … Could be worked out at right tackle … Extremely high upside.
Weaknesses: Play isn't consistent … Doesn't play up to his huge frame; only when he wants to … Lapses in concentration … Sluggish on cut blocks … Needs to block with more balance and slightly lower to the ground … Needs to develop footwork a bit.
Eight prospects have visited in the past week. Each team is permitted to invite 30.
Steelers Gab Newsletter
Sign up to receive our
Steelers Gab
newsletter, and keep up to date with all the latest Pittsburgh Steelers news.