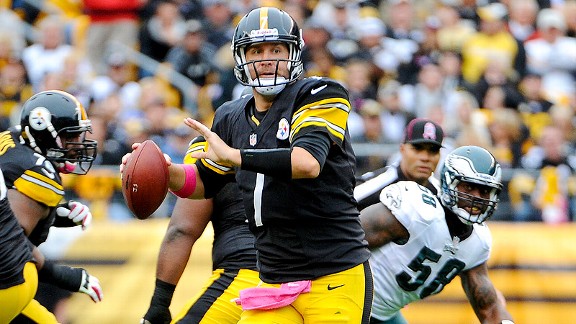 With the news earlier this week that the Steelers and Ben Roethlisberger are beginning preliminary negotiations on a new contract – and good ol' No. 7 coming off the best statistical season of his career – it would be selfish to ask for more from our franchise signal-caller. But that's exactly what I'm going to do.
Roethlisberger will be 33 when training camp opens in July, which means the clock is ticking on his career. He is coming off a 2014 campaign that saw him throw for 32 touchdowns and nearly 5,000 yards. A series of fits and starts in his relationship with offensive coordinator Todd Haley seemed to signal that Roethlisberger's prime was being wasted, but the two have buried the hatchet and combined to pilot one of the most dangerous offenses in the league.
The front office has managed to surround Roethlisberger with effective weapons and – maybe more importantly – a healthy offensive line provided more clean pockets last season than in years past. With the spate of injuries and performance-based shuffling that plagued the offensive line in recent years, Roethlisberger has managed to endure. He has increased his passing touchdowns every year since 2010, and he's held his interception total to single digits three times in that same span.
Roethlisberger was at the height of his powers during back-to-back home wins over the Colts and Ravens last fall, throwing for 862 yards and 12 touchdowns in that two-game span. He stood tall in the pocket and threw with a combination of purpose and accuracy that Steeler Nation hadn't witnessed in the first 10 years of the Roethlisberger era.
It's easy to be spoiled by the stability and production that comes with having a franchise quarterback take the field every Sunday, but that's what we've had since Roethlisberger took the reins from Tommy Maddox early in 2004. Roethlisberger has produced three Super Bowl appearances, more than 39,000 regular-season passing yards, 251 regular-season passing touchdowns and 10-5 playoff record, but he has more to give.
Roethlisberger isn't as nimble in the pocket as he once was, but he doesn't have to be. Haley's offense is designed for the quarterback to get the ball in the hands of the playmakers quickly and avoid taking hits or having to run for his life just to throw a pass downfield. Roethlisberger's game has matured, and his acceptance and understanding of what it takes to win in the NFL has reached critical mass.
Art Rooney II and Kevin Colbert should have no qualms about giving Roethlisberger the long-term, big-money contract that will allow him to finish his career as a Steeler. But in return, the organization must demand that Roethlisberger has the team in Super Bowl contention in the years to come.
The time for mediocrity has passed. It's Super Bowl or bust from here on out. And it starts with the quarterback.
Steelers Gab Newsletter
Sign up to receive our
Steelers Gab
newsletter, and keep up to date with all the latest Pittsburgh Steelers news.