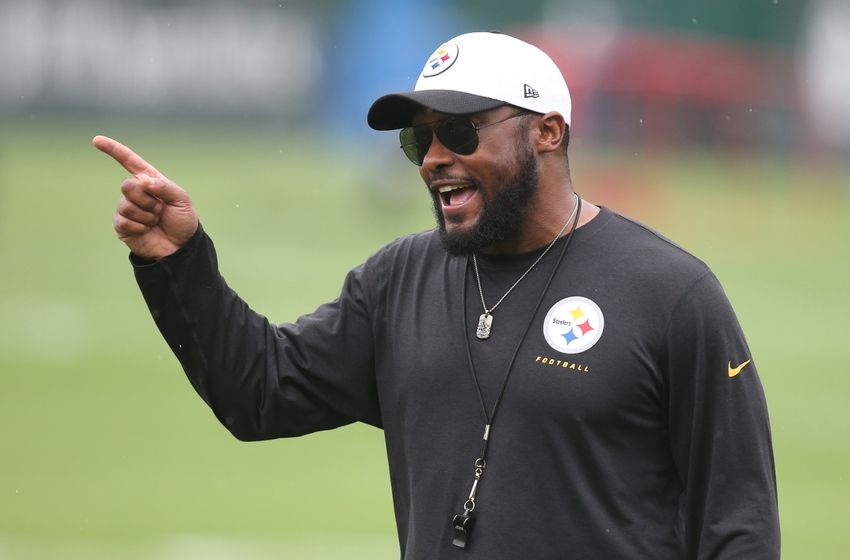 The Pittsburgh Steelers finished week one of organized team activities better known as OTAs. It has been a busy week for the organization and it's players. Today I will recap some things that happened during the week that really stood out to me.
Chemistry between Ben Roethlisberger and Markus Wheaton: 
Steelers quarterback Ben Roethlisberger will be without star receiver Martavis Bryant, who is facing a year long suspension due to violating the NFL substance abuse policy. This is a perfect time for third-year receiver Markus Wheaton to step up his game and get on the same page as the two time Super Bowl winning QB.
According to Steelers.com, the two athletes are building chemistry.
"Ben is good at communicating with us and letting us know exactly what he wants, how he wants it," Wheaton said. "I think that's good for when somebody does go down, you have guys that step up and they can now communicate with Ben and he's easy to communicate with.
"I think he gets his point across very well, makes it easy for everybody."
Artie Burns vs. Antonio Brown: 
Artie Burns, a first-round pick in the 2016 NFL draft, had his first faceoff with all-pro receiver Antonio Brown during OTAs this week.
According to Jeremy Fowler of ESPN.com, Brown went 1-for-2 on isolated matchups. Burns had great recovery speed after getting beat initially. When he saw Brown streaking, Burns said, "I had to open up and run" to cover the post.
While the rookie improved as practice went on, earlier in the day Burns wasn't so "lucky".
"He got me," Burns said. "I had bit on the slant. He went back out. He scored on me."
This matchup would have been exciting to watch. Hopefully they continue to battle. This should make Burns a better athlete knowing he is covering one of the best in the game and gaining experience from it.
Le'Veon Bell is BACK:
While the third-year running back is keeping it safe, he participated in OTAs this week. According to Steelers.com's Mike Prisuta, Bell intends to better protect himself this season.
He said, "I feel like I just have to protect myself,"
"Right now, I am just trying to do what the coaches tell me to do,"
"They are trying to protect me from myself. I am listening to those people, taking care of my body, doing what I can. They are getting me back into it slowly. Right now, I feel like I could do everything. But obviously, they are going to protect me from myself, like I said, and really take it slow for me."
Hopefully Bell takes it easy while still improving his knee. He suffered a season ending knee injury against the Bengals in 2015 and hopes to become better than ever.
Center Maurkice Pouncey is FULL GO:
After Steelers center Maurkice Pouncey injured his ankle in a preseason matchup against the Green Bay Packers, everyone thought the season was over. He is true offensive leader and a player that impacts the game when on the field.
According to Steelers.com's Teresa Varley, Pouncey is "Full Go" in OTAs.
He said,  "It feels good, I love being around the guys. I love football. It all went great."
"I am full go. I am not missing anything, I am ready to come out here and play, each day at a time. I am great now. Everything is good. I appreciate all the doctors and trainers for everything they have done. They did a great job.
"I was ready this offseason to go. I was nowhere near it during the season. I am here now. I am just ready to go out and play."
It's great to have Pouncey back from an injury that sidelined him for the entire season. I can't wait to have him back on the offensive line opening lanes for running back Le'Veon Bell as he's on his way earning touchdowns.
Some minor things that occurred: 
Cornerback William Gay showed respect to retired safety Troy Polamalu by wearing his jersey in practice.
Wide receiver Sammie Coates is gearing up for a big season. He addressed the media and how he is in the best shape of his life.
Newly acquired tight end Ladarius Green was sidelined due to his offseason ankle surgery. This helps second-year tight end Jesse James earn some first team reps.
Quarterback Ben Roethlisberger said, 'You want to win Super Bowls' and addressed that his expectation is to win a 7th Lombardi Trophy.
This concludes a list of some important aspects that went down during the first week of OTAs. #GoSteelers
Steelers Gab Newsletter
Sign up to receive our
Steelers Gab
newsletter, and keep up to date with all the latest Pittsburgh Steelers news.